Evolution of Marketing Concept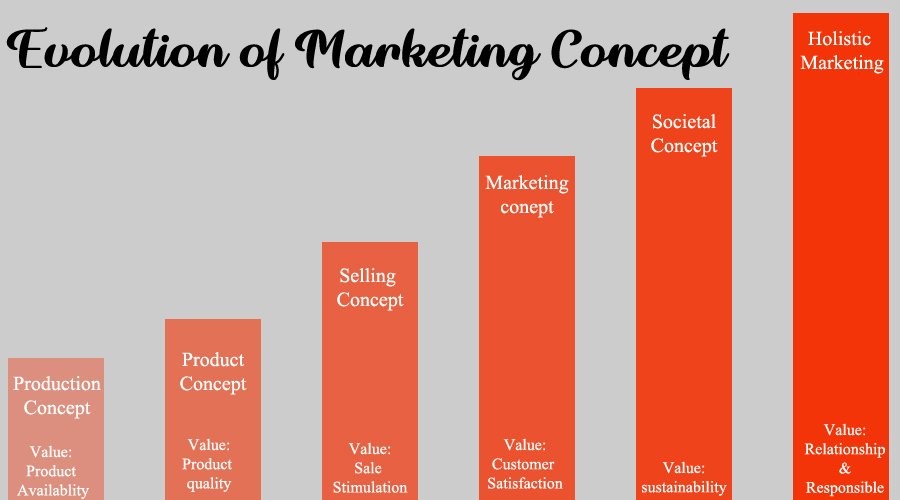 Good marketing makes the company look smart. Great marketing makes the customer feel smart.
The marketing idea is a way of life in which all of an organization's resources are mobilized to generate, stimulate, and please the customer for a profit. It reflects a distinct corporate perspective that views marketing as more than physical activity. Marketing evolution refers to the slow and steady growth of marketing over time.
Science and technology advancements, particularly the advancement of information technology, have profoundly transformed the way people live, do business, and sell and purchase. The following is a brief overview of the different stages of marketing evolution.
Production Concept
Addressing marketing from this concept entails concentrating effort on increasing manufacturing efficiency and guaranteeing the company's goods and services everywhere possible via its distribution system. Customers believe low prices and product availability are the main factors for them to perceive goods and services as having higher value.
At this point, the demand for products typically outstripped the supply, and businesses had little trouble finding consumers. As a result, they concentrated primarily on increasing production and distribution efficiency.
Product Concept
The primary focus at this phase is on product quality. It implies that customer value is inextricably connected to the availability of high-quality, high-performance goods. As a result, the marketing function was to deliver goods that the firm thought was of the "best value" to the consumer.
This method focuses on product research and development, as well as continual change throughout their life cycles, in order to keep potential consumers' attention. Under the product concept, management concentrates on developing high-quality goods that can be sold at a reasonable price while paying low attention to what customers truly need and desire.
Selling Concept
Firms that use the selling concept believe that the organization's success is a result of different strong promotional methods intended at influencing consumers to choose the firm's product or brand over rivals' products. As a result, no matter how wonderful a product is, consumers will not be able to contemplate purchasing it if they are not made aware of it.
When examined closely, it is obvious that this strategy is not about achieving customer pleasure or developing a positive and long-term connection with the client. It is about allowing the company to earn as many sales as possible from the transactions. This is the main disadvantage of this concept.
Marketing Concept
A marketing concept is a business approach that focuses on producing goods that are designed to meet the wants, needs, and expectations of customers, as well as product functionality and production efficiency.
Logically, in order to satisfy target consumers, the firm must first determine their requirements and desires and then build the marketing mix elements to suit those needs and desires more efficiently and effectively than rivals.
Businesses research and analyze their market to understand their customers. Thereby gathering information that will be handy in their marketing strategy.
Societal Marketing Concept
Much as the marketing idea appears to be beneficial to both customers and the firm, it falls short of perfection if it fails to address social issues. The primary determinant of value in this marketing strategy is sustainability.
This ideology is concerned not just with customer happiness, but also with consumer welfare or societal welfare. Such social welfare speaks of a clean environment and a high quality of life.
As a result, a company producing a pack of cigarettes for consumers must provide not just the greatest cigarettes but also pollution-free smokes; a car must be not only fuel-efficient but also less polluting.
As a result, it is not surprising that, in addition to providing products or services in the exact form that customers will appreciate, using appropriate pricing, distribution, and promotion strategies, most businesses now emphasize their level of environmental friendliness in order to attract customers.
Holistic Marketing
Holistic marketing is described as a marketing approach that examines the entire organization rather than an interconnected entity, and in which all other corporate divisions collaborate to generate a positive and cohesive business image in the eyes of customers.
Other marketing concepts such as production, product, selling, and marketing concept mingled and found a new concept known as holistic marketing.
Holistic marketing connects the market around shared goals and visions, resulting in a strategy that is inclusive, relationship-oriented, and socially responsible. Relationship marketing, integrated marketing, internal marketing, and socially responsible marketing are all examples of this.